They think it's all over…
When the final whistle blew at Wembley on Saturday, it signalled the end of the domestic football season. Not only were Aston Villa put out of their misery, but the results of the Yellowdot Football Trophy were busy being calculated here at Yellowdot Towers.
Quite remarkably, we find ourselves not needing to present the famous trophy this year – as the 2014 Champion has retained his crown!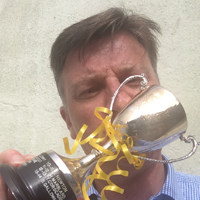 Many congratulations to Shaun Galloway, who predicted two of the four divisional winners (Chelsea and Bristol City), and was only a last minute equaliser away from adding Watford to that list. In all, his two winners scored him 10 points each, and runners-up Watford added a further 5. That 25 point haul was enough to see off runner-up Joss Davidge (20 points – Chelsea and Bristol City) and Yellowdot's very own Caroline on 15 (Bournemouth 10 and Man City 5).
A special mention goes to John Mortimer who was the only competitor to select Bury (3 points), Caroline of course for her astute selection of Bournemouth (10 points) and our in-house football expert Kevin who was the only entrant that failed to get a single point (Everton for the title was always a long-shot…)
Thanks to all that participated, and well done again Shaun – the bubbly is on its way!
See you next season!
https://www.yellowdot.co.uk/wp-content/uploads/2016/08/blog-they-think-its-all-over.jpg
240
830
Yellowdot
http://www.yellowdot.co.uk/wp-content/uploads/2016/08/yellowdot-logo.png
Yellowdot
2015-06-05 15:33:37
2016-08-09 15:40:57
They think it's all over…