We recently completed our first project for the London Borough of Hounslow, a double-sided set of large format property development boards – with a difference.

The open brief allowed us plenty of scope to fully research the location, the properties and the local history. We presented two alternative approaches, firstly using some 'famous faces and places' of Brentford (there are loads – and some really surprising ones), and the second focusing on the Brentford Towers development site itself and the immediate site history. Much to our delight, both ideas were very well received and it was decided to use one on each face of the boards.

In addition to creating a set of bespoke illustrations, we used archive photography, visited local museums for reference and researched and wrote the content, whilst keeping it all 'on brand' – a proper 360 project indeed.

One of our objectives was to engage with local residents, with these nuggets of local history designed with an educational benefit. As such, you can imagine our delight when we visited the site after the signs had been installed. The plan was to take some reference pictures, but whilst setting this up we were stopped by passing local resident Maria, who insisted on telling us how great they were (unprompted!) Indeed, Maria was easily persuaded to be in the photographs herself as you can see.

Further feedback since has been hugely positive, and as such two further commissions are currently in hand and another awaiting starting. This was a fascinating challenge with a fantastic end result – a great way to start the year!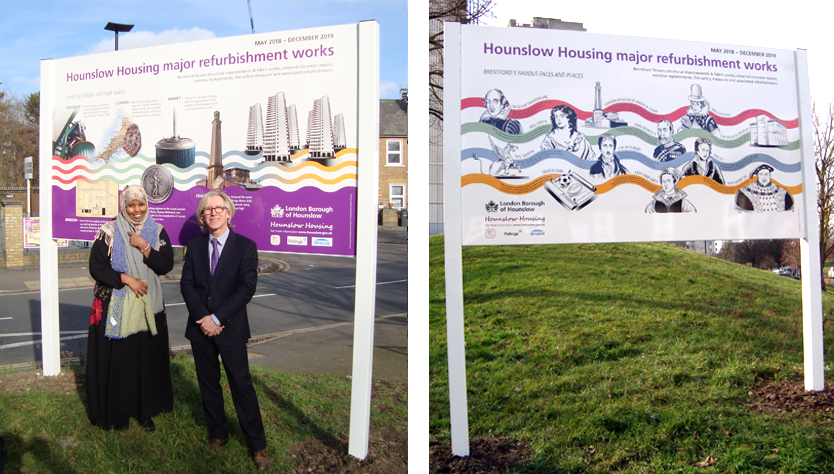 https://www.yellowdot.co.uk/wp-content/uploads/2019/04/brentford-board2.jpg
322
832
Yellowdot
http://www.yellowdot.co.uk/wp-content/uploads/2016/08/yellowdot-logo.png
Yellowdot
2019-02-12 11:10:14
2019-04-02 08:50:01
Hounslow Housing Boards