There was just a fleeting moment at the end of the penultimate round when the impossible dream beckoned… Sitting proudly in 4th place – just 5 points from the pinnacle – the Yellowdot quiz team found themselves in nosebleed territory. After years of underperforming could this really be happening? (See the picture for proof).
Perhaps it was the left field team name (You should have seen the monkey trying to put the cork back in) that was bringing us luck, perhaps it was Caroline's knowledge of all things HRH QE2, or indeed Jan's remarkable grasp of popular culture, however here we were, for once we found ourselves as real contenders for the magnificent Menzies Annual Quiz Trophy.
Then reality struck. The final round (aptly named "Do you feel lucky?") was a random set of questions that would add to nothing if you got one wrong – a sort of 'go as far as you can then stick' approach. Unfortunately we never got off first base, and with no knowledge of the Eastenders cast (we should be proud of that suggested Kev) we didn't even get the first question right and watched sadly as ten teams overtook us in the table.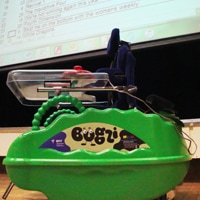 So, what might have been glory became mid-table mediocrity. However, objective number one was to finish in the top half, and 14th out of 28 teams just about secured that. Many thanks to Menzies for arranging such an excellently run event, and for raising over £4000 for the very deserving MERU charity. We'll be back next year for more!
https://www.yellowdot.co.uk/wp-content/uploads/2016/04/blog-menzies-quiz-score.jpg
240
830
Yellowdot
http://www.yellowdot.co.uk/wp-content/uploads/2016/08/yellowdot-logo.png
Yellowdot
2016-04-22 08:54:27
2016-08-11 16:29:54
Do you feel lucky?